Build Sheet/Broadcast Sheet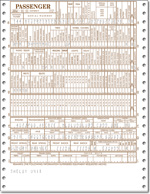 The build sheet or broadcast sheet was used by Trim and Chassis assembly line workers to determine what items were to be installed on a vehicle. Several of these sheets were printed and attached to the car and subassemblies for the car. The build sheets were usually discarded by the assembly line worker, however, in some cases they were left in the vehicle in hidden areas, such as under the dash, carpet or back seat.
The build sheet can sometimes be the only means of determining exactly what went on a particular vehicle at the time of assembly. It would list items such as; shocks, radiator type, mirrors, engine size, transmission, paint codes, interior codes and order numbers, just to name a few.
See our FAQ section for more information: What is a factory build sheet?
Marti Auto Works now offers reproductions of the Build Sheets used on 1968 Mustangs and some other 1968 passenger cars. These came in four different variations which Marti Auto Works is able to match. This document can be very important in determining what parts are are needed to complete your restoration, it's also a great piece of documentation to have, as most vehicles have very worn copies or are completely missing.
We require a copy of your original build sheet to make an exact copy, however, if you have a partial or missing build sheet we can research the missing information for you for an additional fee. Please choose from the options below that best match your situation:
SPECIAL: Several copies of the form were attached to your car as it went down the assembly line. Order multiple copies now at a discounted price. The first copy is on sale for $80.00, if you order additional copies now, they are only $10.00 each.
IMPORTANT: We currently only offer this service for 1968 Mustangs, Cougars and a few other 1968 Ford, Lincoln and Mercury passenger cars. We will add other vehicles in the future as more data becomes available, based on demand.
Make sure the correct vehicle is selected and choose from the options below:
Enter your Vehicle Information