Window Sticker Example #1
Here is how the 1967 Mustang in the Window Sticker below was advertised: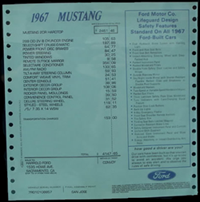 This 1967 Ford Mustang is a very highly optioned classic. The base price when it was new was $2,461.46, but the sticker price for this car was $4,147.65. This beautiful royal blue collector's item has a 289 automatic with matching numbers. It has been professionally restored, with $30,000 being spent on a very nice California car. Everything down to the clock works great. Some of the options include power steering, power disc brakes, cold air conditioning, tilt away steering, interior decor group, exterior decor group, and much more. Please note that the radio/cassette player is not original. Everything has been reconditioned with no expense spared. Documentation for all options and restorations are present, and you can see a picture of the window sticker. The car runs excellent and is one you can drive and enjoy while still maintaining its investment quality. Vehicle Serial Number: 7R01C108857 This auction for this classic vehicle will begin at $17,900. THIS IS A NO RESERVE AUCTION.
Here is the Real Scoop on the same Mustang:
Five dollars and a typewriter - that's all it takes to create one of these. Window sticker blanks have been available for the last twenty-five years. Con artists have been sticking blank forms in typewriter carriages for just as long with one objective in mind - to trick someone into paying too much for a car.
Look at this example of a 1967 Mustang window sticker and the accompanying ad copy. This writeup is taken directly from the ad the seller wrote. Pay attention to this comment, "Please note that the radio/cassette player is not original." A magician knows this technique as "misdirection." It appears the person is being honest because they warn you that something is not original. This misdirection sets the victim up to believing the seller is honest ("after all, he warned me the cassette is not original").
The fact is the car originally was not ordered with the rare factory AM/FM radio or the air conditioner, or the tilt-away steering wheel. In fact, he added over ten options that DID NOT come from the factory on this "loaded" car. What will be loaded after this sale is his bank account!
How could you know this car is not original? Again, you could order the Marti Report. But what if the vehicle is a 1966 or earlier model?
Window Sticker Example #2
Our next example shows a very old looking window sticker. It is amazing what some lemon juice and sunlight will do to paper. I can make any brand new white piece of paper look very old by sprinkling the juice on it and leaving it out in the sun. Folding it a few times and tearing it will add good measure. Appearance of age should not be mistaken for authenticity.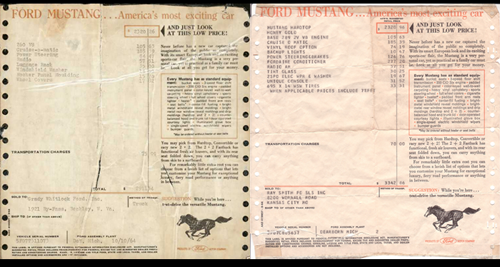 To the right is an authentic window sticker. The style of the lettering (known as a font) is unmistakable. This same font was used on window stickers for over twenty years. We're sure a clever con artist can replicate the correct font, but most people won't take the time. If you are buying a car and someone presents you with a window sticker that does not have the correct font, you need to ask yourself why that person would bother to present a fake document. It's a warning that some other aspects of the car may have been faked.
Window Sticker Example #3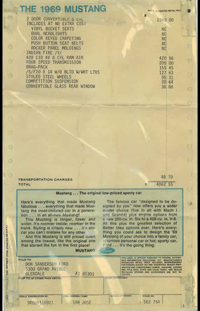 The last window sticker is for a serial number that doesn't even exist (a Marti Report would have revealed that). Someone bought this car and paid $185,000 for it! Fortunately, when they found out from us the true story, they were able to unwind the sale. But it won't always go so smoothly for the buyer. Don't let your hard-earned money go to an undeserving person. Protect yourself.
The Marti Report is one of the best tools available to make sure you are getting what you are paying for. You can also hire professionals that can examine paperwork to judge its authenticity. If you can't find someone locally to look over paperwork, our company can be hired to determine if paperwork is authentic.!